Visit Calimucho Screen Printing in San Pedro, CA back in January – just before they got their first ROQ automatic screen printing press.
Since 1999, Rawl and Kevin have used screen printing to share their love of bands, artists, skateboarding, and everything else that makes California great.
Calimucho has become a cornerstone for San Pedro's community – hosting concerts, putting on live screen printing events, fundraising for businesses during the pandemic, and much more.
Crafting a better screen printing shop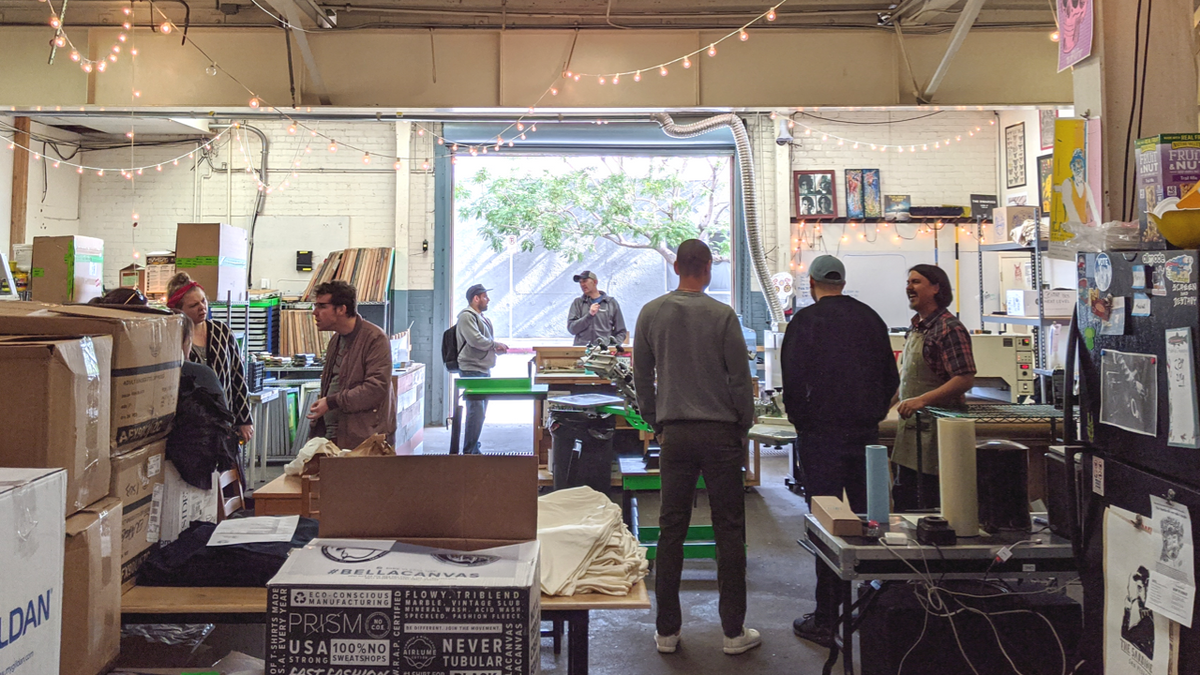 "In the last two years, we really went for it," Kevin told us. Calimucho has grown comfortably, but the toll of manual screen printing has kept their eyes on the prize: buying their first automatic screen printing press.
"I mean, we're in our forties. Now we need more time to develop our customers," Kevin said, explaining that the new ROQ automatic press is meant to ease the physical strain of their jobs and help the business grow.
Rawl added, "For us, it was the perfect time to get the ROQ. Manual printing was physically destroying our bodies!"
He explained that their goal was to create a better business, not necessarily just print faster or print more.
"We want to make it so anyone we hire in the future can hop in, and create processes that are easy to teach and explain," Rawl said.
Always part of something bigger – but more important than ever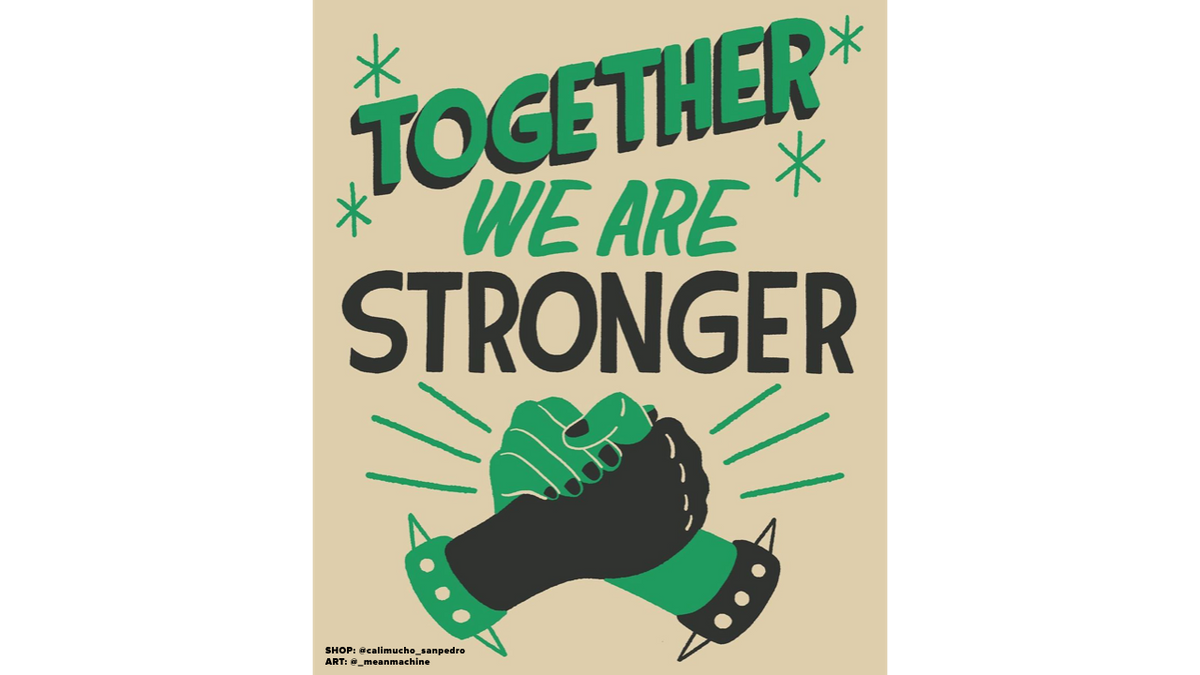 Education, community, music, and outreach are all part of Calimucho's mission.
Just check out Calimucho's Instagram to see the amazing artwork, people, businesses, and schools they've touched with their uniquely positive and fun outlook.
Rawl and Kevin printed live on the floor of Impressions Expo 2020 with their brand new ROQ a few days later – and we're pretty sure Kevin got a new tattoo at the Ryonet booth as well.
Thanks so much for having us, Calimucho. We'll be back in 2021 to see how things have evolved!
Check out Calimucho's Merch store to see how they're getting more sales with online stores to fundraise for San Pedro's coolest artists, organizations, and businesses.
Their Stronger Together campaign (pictured above) is an incredible example of what's possible when screen print shops pivot under tremendous circumstances.
PHOTO CREDITS
All photos by Printavo except thumbnail and Stronger Together artwork, both courtesy of Calimucho.
---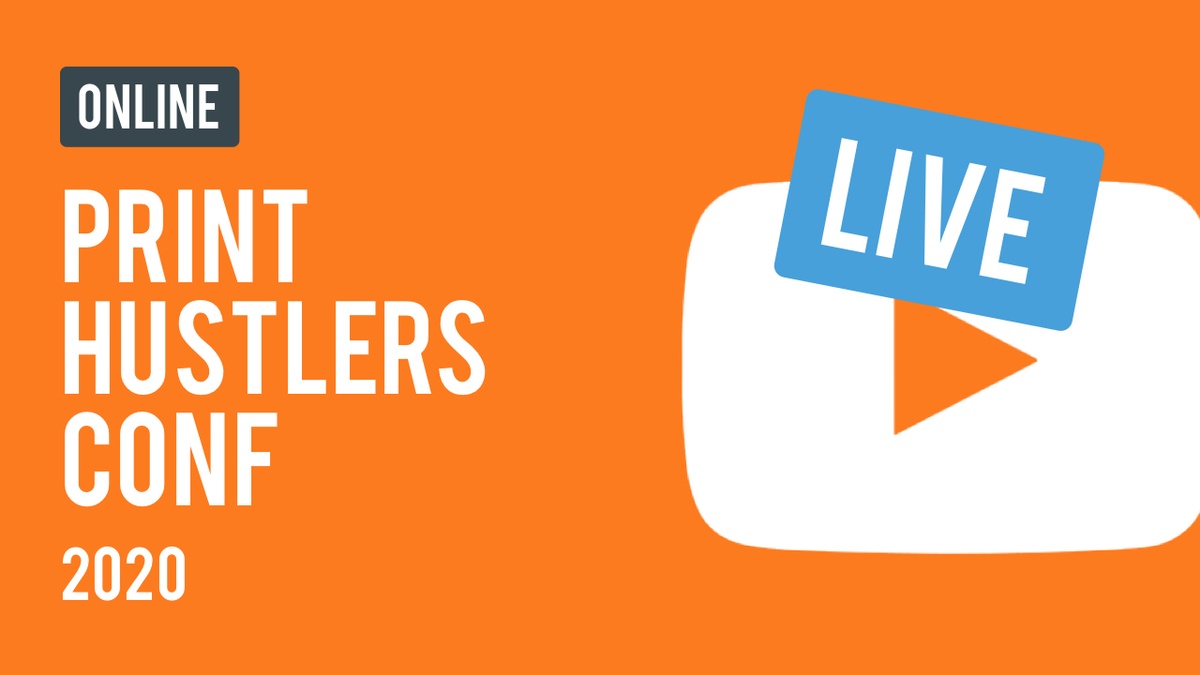 Printavo's PrintHustlers Conf 2020 has gone online!
This conference will arm you with the resources and knowledge you need to survive 2020. Best of all, it's free – and open to all.
Join us for an action-packed two-day conference streamed live to your office (or couch).
Featuring SHIRT KONG's Andy Rudman sharing shop stories, Dr. Sherry Walling discussing mental health for entrepreneurs, and Traction expert Tom Bower developing a foundation for your business (and more).