CTS (computer-to-screen) or DTS (direct-to-screen) imaging systems cost between $30,000 and $80,000 USD, so they're a major investment for any screen printing shop. Our computer-to-screen cost calculator shows that even a modestly-sized print shop (making 25 screens per day) can reach a return on their investment in less than 3 years.
The return on investment for CTS systems is rapid, but many shops struggle to justify the price.
This article shows how much computer to screen imaging systems cost, why to purchase one for your shop, and specifically details how CTS systems changed several screen printing shops.
Key Insight
Automating the screen room is how a screen printing business can spend money to create immediate improvements in efficiency, setup times, turnaround speed, and overall costs.
Based on our calculations, a screen print shop with a CTS system can save $1,800 a month in supplies, labor, and expenses.
What would that screen print shop look like? Here's how they operate:
25 screens burned daily

8 hours a day, 20 days a month

6 screens per job

20 minutes to set up a job
That shop could see a complete return on their computer-to-screen investment in 29 months. While there are a lot of ways to generate more revenue (like making more sales with online stores), you ultimately need to expand your overall capacity and capabilities to grow your print shop.
Don't take our word for it: you can use our CTS return-on-investment calculator below to get an estimate for how a CTS system could help your shop.
But first, the basics of computer-to-screen systems.
What is computer-to-screen (CTS)?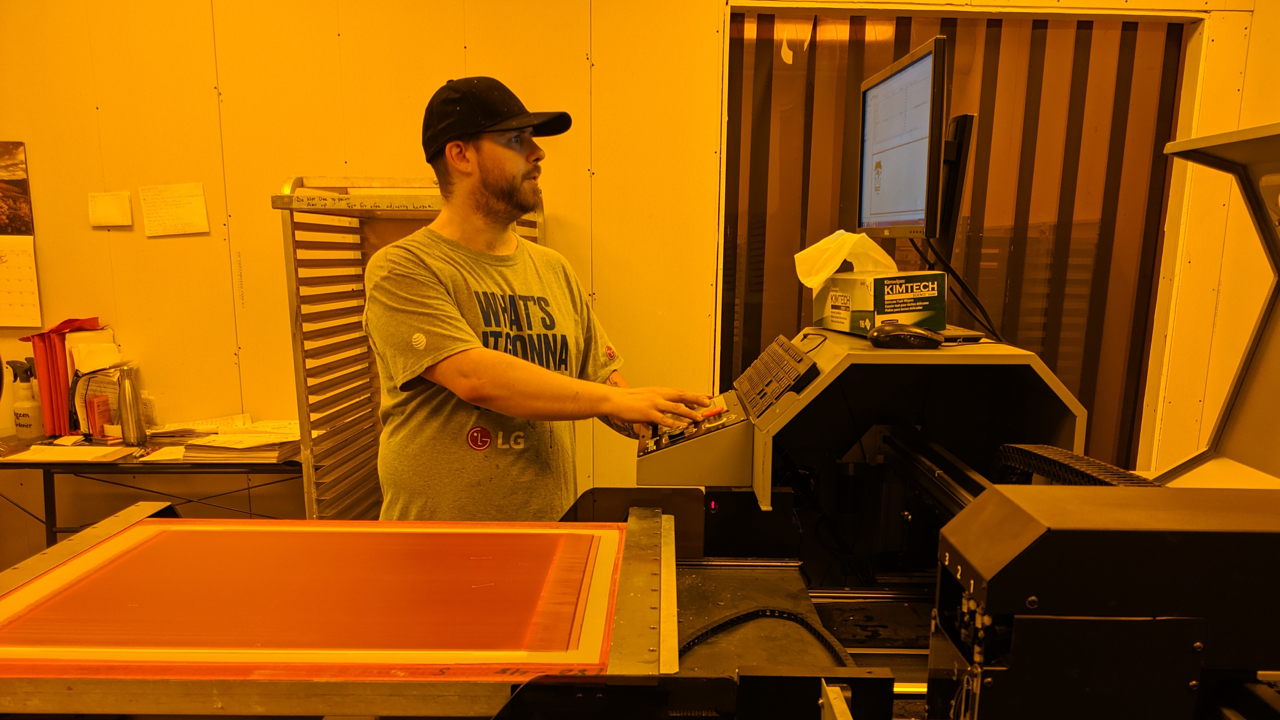 "Computer to screen" (DTS) and "direct to screen" (DTS) are two terms to describe the same concept in screen printing. People often use the two labels interchangeably, but for our purposes we'll call it computer-to-screen or CTS.
A computer-to-screen system images or burns screens for screen printing by directly printing an image onto the screen, using wax or ink.
The basic CTS or DTS screen-making process works like this:
Artwork is created

RIP software is used to put the artwork into a format for the CTS machine

The art is printed directly onto the screen by a digital printer

The screen is already coated in light-sensitive emulsion

The screen is exposed and the

art is protected from the light by the printed image, so it doesn't harden

The screen is rinsed out with water

Areas that the screen printer wants to print are not hardened, so ink can pass through it onto a shirt (or sign, hoodie, poster, etc.) while the hardened emulsion acts like a stencil
Traditionally, screen printers use transparent film to image their screens.
Not only is the film required for this process expensive, the ink used to print the transparencies is costly. Additionally, the process is prone to error. Virtually every print shop has struggled with their Epson 1400 printer while printing transparencies.
Even skilled screen printers struggle to output high-quality films for imaging screens. Perfectly lining up each film, exposing the screens, and registering the screens on press is a frustrating and time-consuming process.
Computer-to-screen systems are much easier than using film transparencies to make screens. CTS systems are precise, accurate, and far more predictable than film.
Time and labor savings due to CTS systems are huge. We'll discuss those savings after we cover how much computer-to-screen costs.
How much do CTS imaging machines cost?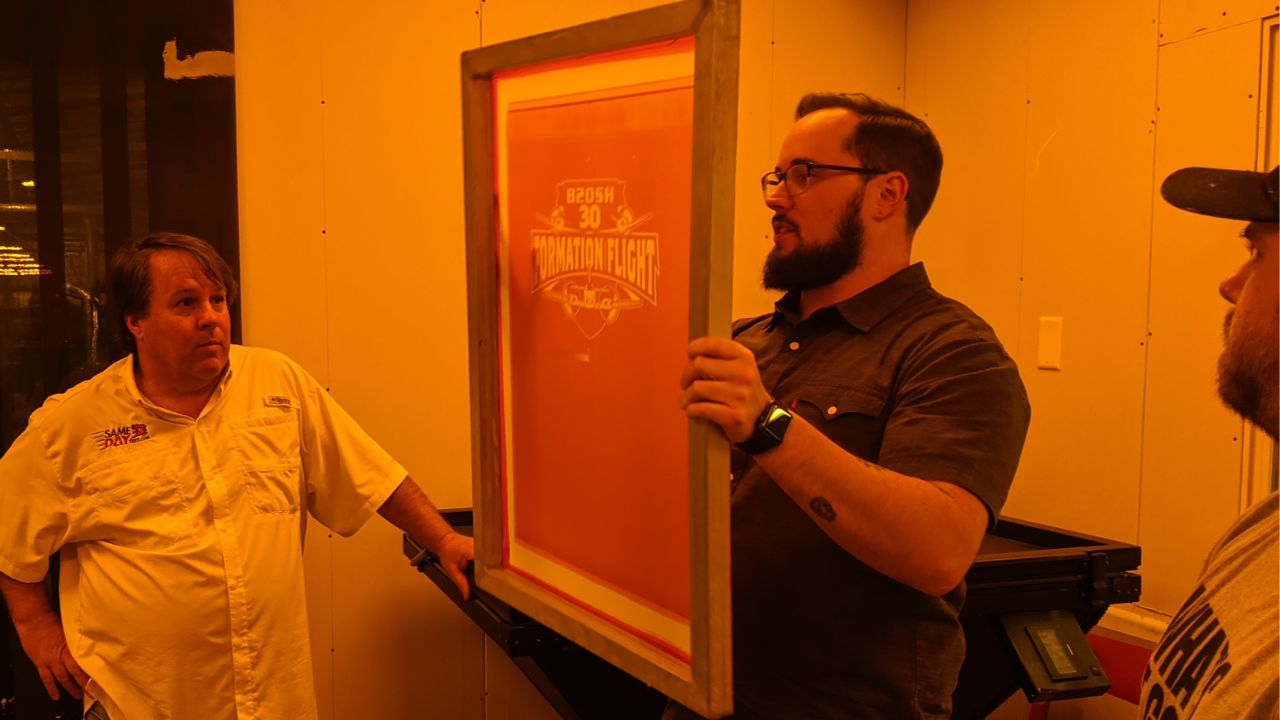 Computer-to-screen machines cost between $30,000 and $80,000 USD depending on the manufacturer, model, and exact specifications.
A note about prices: all manufacturers carefully guard their prices. The ranges quoted in this article are based on conversations with screen print shops that have purchased CTS systems. If you're shopping for a CTS imaging system, contact a manufacturer directly to get a clearer picture of the costs involved.
Here are some example price ranges for CTS machines:
Some screen printers will advise you to purchase used equipment. We suggest buying new CTS machines in order to get the best service and warranties available.
Most screen print shops finance their CTS machines through their bank or an institution like CIT rather than pay cash outright. Obviously, the payments vary according to the terms of your loan.
How long does it take to pay for a CTS system?
Screen print shops that use more than 50 screens a day could pay for their CTS or DTS machine within 2 years.
As your shop grows and images more screens in a day, the value of a computer-to-screen system goes up – and the time it takes to make a return on your investment goes down.
While we can't tell you exactly how long it will take for you pay for your CTS system, we can show you some compelling figures that demonstrate why CTS is such a powerful investment. The time to reach a return on your investment with a CTS unit is extremely short, and the more your shop prints the quicker you realize that investment.
Dollar-for-dollar, it's hard to imagine an equally valuable way to spend money on your screen printing business. Thousands of dollars in savings can be realized by reducing labor and material costs, with an extremely high annualized rate of return.
Let's compare three different shops to show how long it would take to make a return on the initial investment.
Shop #1: 25 screens a day
A shop that burns 25 screens a day is fairly busy and beginning to see a real need for more efficient screen imaging.
Our hypothetical shop has the following details:
25 screens a day

$75 per hour shop cost

8 hours a day, 20 days a month of production

6 screens per job average

20 minutes to set up a job
According to calculations we've generated with Douthitt, a shop this size would save $1,800 a month on labor and materials. They would recoup their investment on their computer-to-screen system within 29 months.
Shop #2: 50 screens a day
A shop that images 50 screens a day is likely to see massive and immediate benefits from a CTS machine.
This hypothetical shop has the same parameters, except they image 50 screens a day.
A screen print shop imaging about 50 screens a day would see a return on investment from their CTS system within 11 months.
Shop #3: 100 screens a day
Screen printing businesses that burn 100 screens a day desperately need a CTS machine.
This shop's details would be as follows:
100 screens a day

$125 an hour shop cost

8 hours a day, 20 days a month

Average about 6 screens per job

Take 20 minutes to set up a job
This business would realize a monetary return on their investment in less than 3 months.
Computer-to-screen (CTS) cost and ROI calculator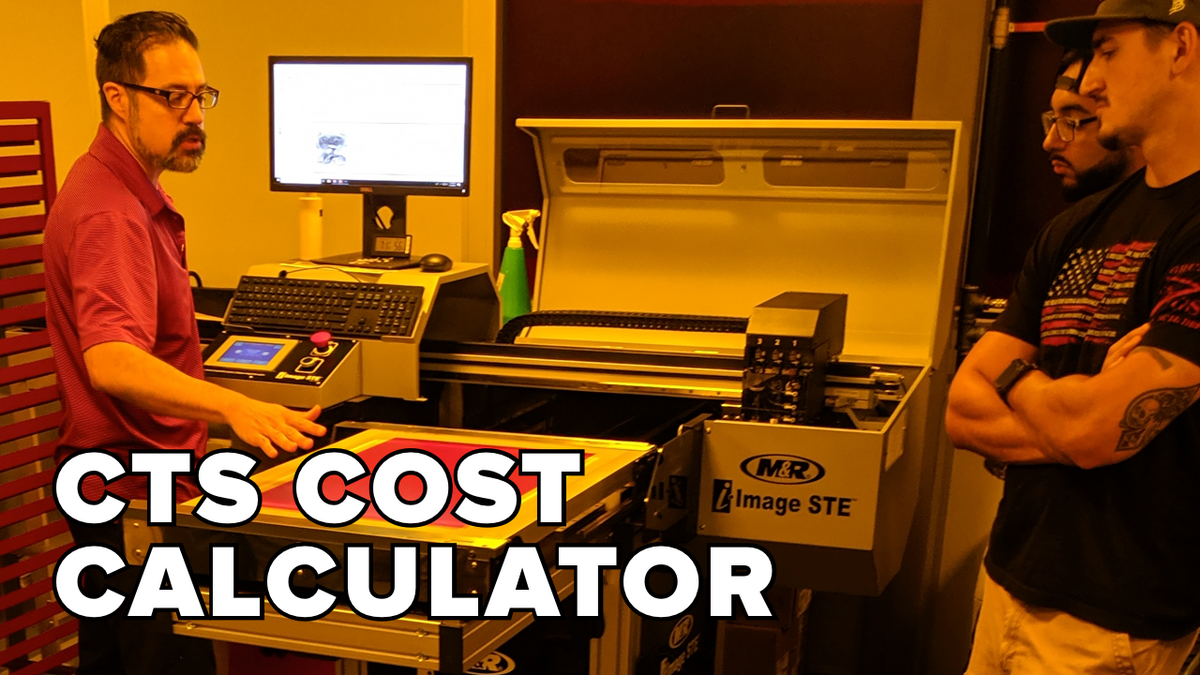 Douthitt has helped us build this simple CTS ROI calculator.
Plug in your own values, or get a feel for how a CTS system works out financially.
Why should screen print shops go with CTS?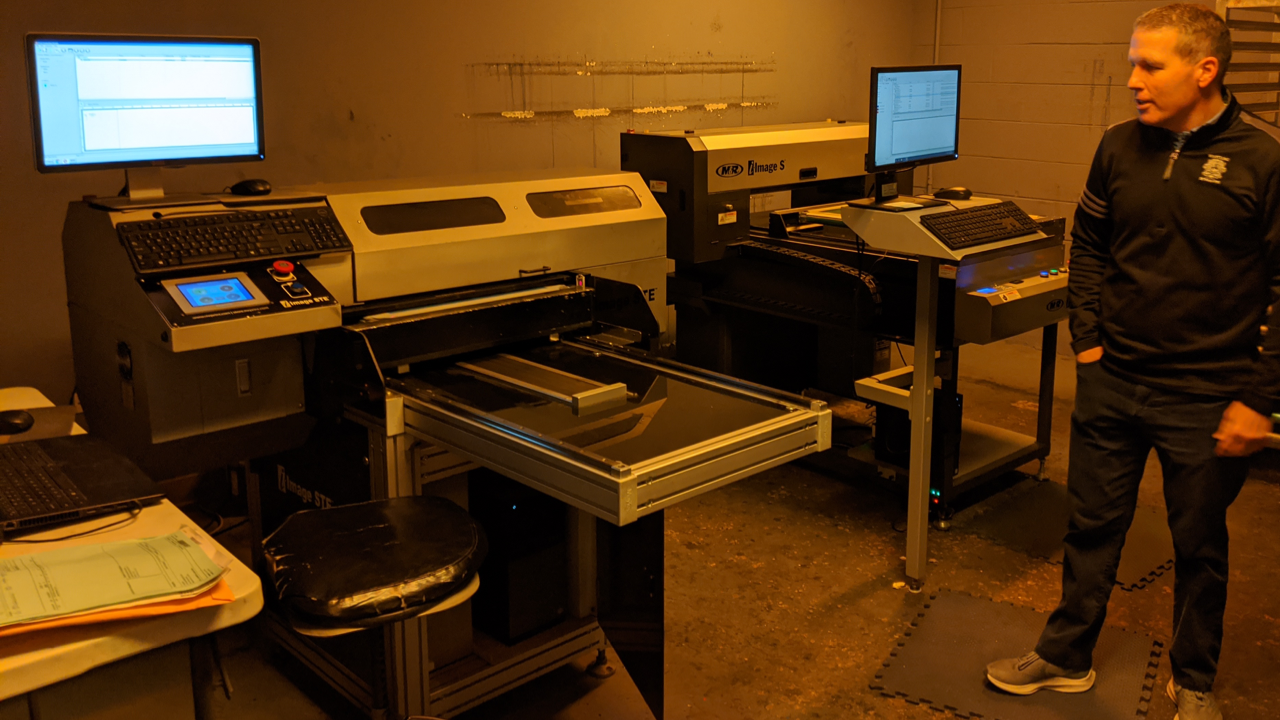 You don't need math and accounting to make a case for CTS or DTS to most screen printers.
The results speak for themselves, and the shops that implement CTS would never entertain the idea of going back to film.
CTS imaging systems improve production capacity, turnaround speed, setup times, and overall efficiency.
Key Insight
"80% of the issues that wind up losing you money as a screen printer are related to your screens." - Jon Ladd from Terminus Tees
Screen printing, as a process, is uniquely challenging. Unlike many other processes, screen printing often has to start over from the very first step (the screens) when something goes wrong.
There is an extremely low margin for error, and most truly costly errors originate from problems with screens.
Computer to screen systems tend to eliminate or reduce a litany of common problems in the screen room. These include minor annoyances like pinholes (due to dust on the exposure table's glass), poorly developed details (due to poorly printed films), and even poor registration (due to film not being perfectly aligned).
The boost in efficiency is so high that it's typically easier to remake screens with a CTS system than try to register and re-register poorly burned screens with a film-based system. "What used to be a nightmare is now just like, oh, I'll be back in 15 minutes with new screens," says Joe Zangrilli from Rowboat Creative (owner of a M&R i-Image CTS system).
The primary benefits of CTS imaging systems for screen printers are:
Much faster imaging
Higher production capacity
Faster setups on press
Consistent registration
More efficient screen room practices
Lower labor costs
Higher quality prints
Easy digital file storage and retrieval
"We had one i-Image, but what happens when one goes down?" explained Marathon Sportswear's Jim Piko (pictured above). Their high-volume contract printing setup forces them to have a backup CTS.
When should a screen print shop buy a CTS system?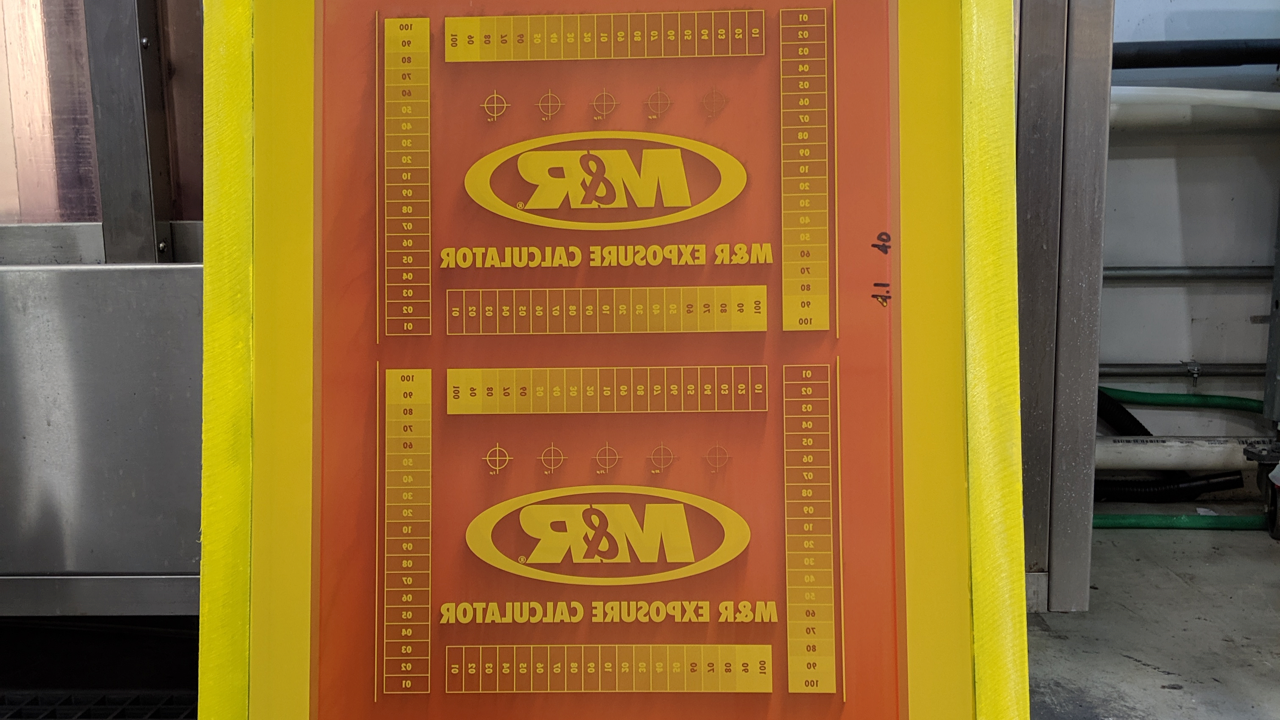 "Before you buy that second automatic press, you should probably buy a CTS system," says Jon Ladd from Terminus Tees. His business ships hundreds of thousands of shirts every year, with a major focus on band merchandise.
There is a clear dividing line between shops that build systems designed to scale. Shops that are not building those systems tend to be chaotic and disorganized. While becoming a big shop isn't the only goal a business can have, being organized is crucial.
The shops that are scaling, growing, and increasing their revenue year after year have invested in CTS imaging systems.
The shops that need CTS the most have these things in common:
Complex art

Why: you will likely make tremendous gains in speed and accuracy with a CTS system, particularly over the long term - and print quality will increase

80+ screens per day

Why: at this size, you are likely spending a small fortune on ink and film...as well as generating a lot of operational waste and inefficiency without a CTS unit

Reorders and film storage struggles

Why: film libraries are tremendously inefficient. Film degrades over time. Digital storage is far superior.

More than 2 screen room employees


Why: the cost of 2 employees' salary is typically higher than even the most expensive CTS system. They will be far more productive.

Complicated separations

Why: as you spend more time and money on complicated separations, CTS boosts accuracy and speed.
A CTS or DTS system isn't always a financial decision, then. It is an investment in becoming a more capable print shop – not purely a dollars-and-cents decision.
Who makes the best CTS imaging systems?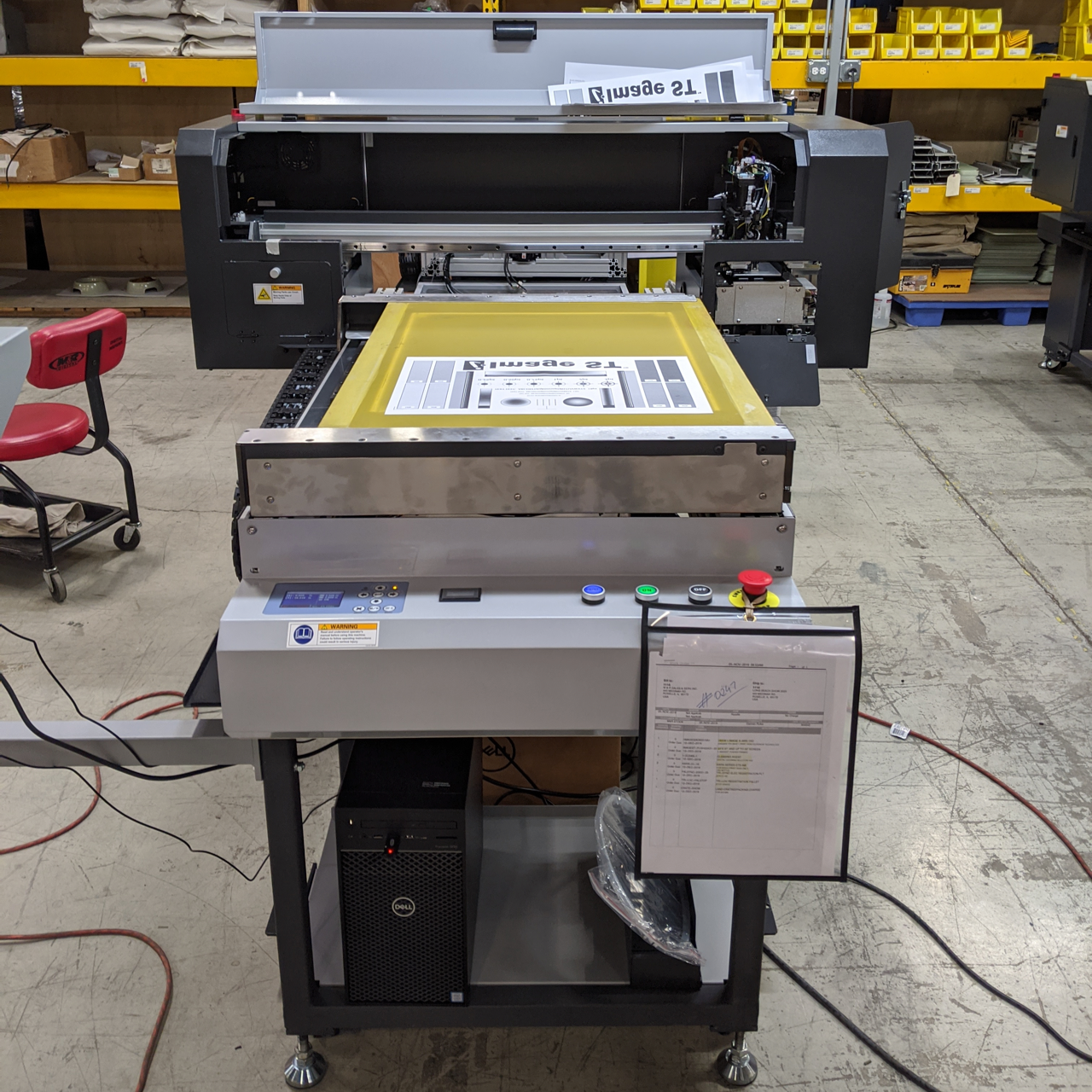 Several companies manufacture, distribute, and service computer to screen systems. All of these manufacturers have crafted high-quality systems that help screen printers realize nearly instant gains in their screen making capabilities.
However, this isn't a review. We aren't here to sell you on one CTS, DTS, or even laser-to-screen system. There are plenty of options, and several distinctions to make between the different machines and manufacturers. We'll ultimately leave it to you, the reader, to pass judgment on which automated screen making system would be right for your shop.
Douthitt
Based in Michigan, Douthitt has been deeply involved in all things related to screen making for more than 26 years. A family business with personable support, Douthitt has earned a name for itself by supporting their customers with extremely durable screen printing products.
Douthitt's CTS30 system costs around $40,000 to $60,000 USD (Douthitt asked that we not quote their exact MSRP) and uses wax to print directly to the screen instead of ink. Users report multiple advantages to the wax-based printing system, including a low cost for supplies, a highly durable print for heavy exposures, and exceptionally detailed print quality.
Additionally, Douthitt has created a super-clever way to integrate Printavo with their system. You simply scan a barcode and the screen maker finds the artwork and crucial job info with no searching, clicking, or fumbling for artwork (see the video above for an example).
The M&R Companies
Based just outside Chicago (check out our tour of M&R's headquarters), M&R is a trusted name in screen printing. Their iconic all-blue brand of screen printing equipment signifies longevity, quality, and value.
M&R's i-Image system represents a suite of screen room products that M&R has refined and iterated on for years. With multiple models and builds, M&R's i-Image system can be found in larger, more efficient screen printing businesses across the world.
M&R's product lineup includes the i-Image S, ST, and STE – each with additional features and capabilities. M&R's i-Image S starts at just under $35,000 USD, while a top-of-the-line i-Image STE (with the exposure unit included) could theoretically approach $80,000 USD.
M&R's CTS imaging system uses ink to print directly to the screen. Even with the cost of ink, the i-Image's cost per screen imaged is lower than traditional film.
SAATI
SAATI's laser imaging system was released in 2018.
Featuring no wax or ink at all, SAATI claims it can image onto any type of emulsion.
Interestingly, SAATI publishes their prices for laser-to-screen systems. They offer a range of laser-to-screen options for other size businesses and applications as well.
Other companies distribute or manufacture CTS systems, including:
Computer-to-screen: a worthy investment
While purchasing new equipment might feel like trying to paint a fence in the rain, CTS machines are a worthy investment for screen print shops. They are absolutely worth the time to procure, setup, and learn to use – and that's proven.
If you're using transparencies and making lots (80+ per day) of screens, automating your screen room is a huge opportunity. It is a simple way to use cash to make your shop more efficient, more accurate, and more profitable.
In conclusion, we urge all screen print shops that are growing, increasing their capacity, or even looking for ways to cut costs to consider CTS systems.
This is a tool to unlock huge improvements – from print quality, to time spent registering jobs, to tracking and reprinting orders.
CTS systems have proven to be the vital piece of equipment that pushes print shops beyond the $1M to $3M revenue hurdle.
---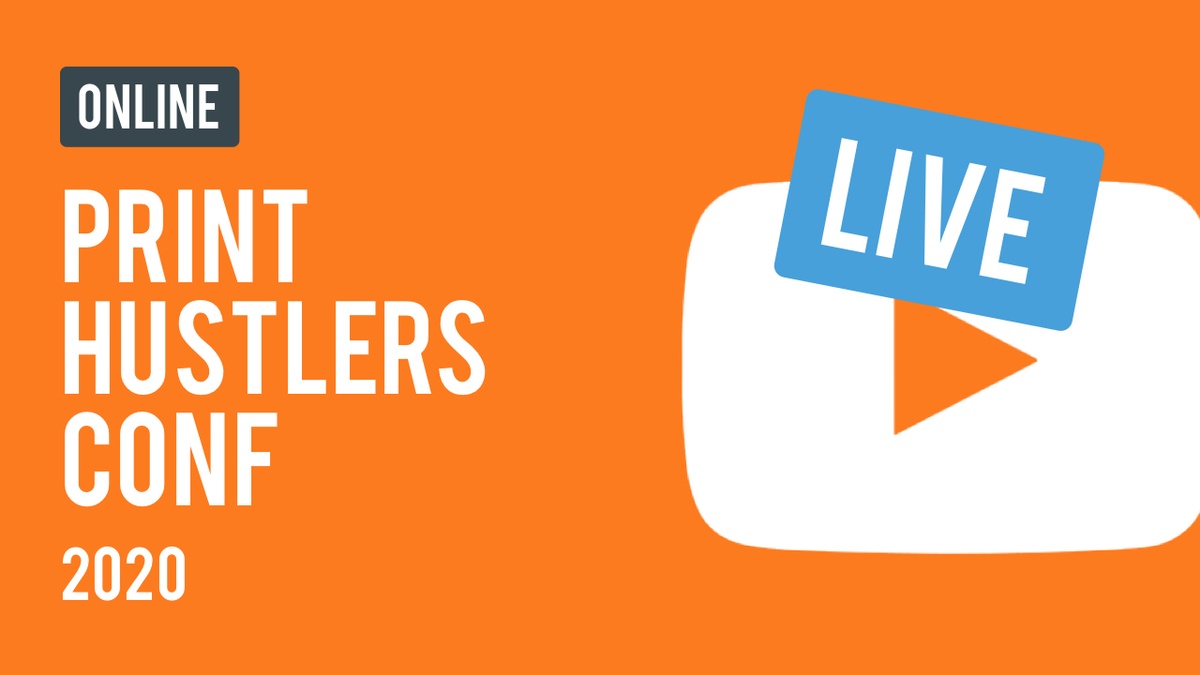 Printavo's PrintHustlers Conf 2020 has gone online!
This conference will arm you with the resources and knowledge you need to survive 2020. best of all, it's free – and open to all.
Join us for an action-packed two-day conference streamed live to your office (or couch).
Featuring SHIRT KONG's Andy Rudman sharing shop stories, Dr. Sherry Walling discussing mental health for entrepreneurs, and Traction expert Tom Bower developing a foundation for your business (and more).